Via BBC News (24th July, 2013)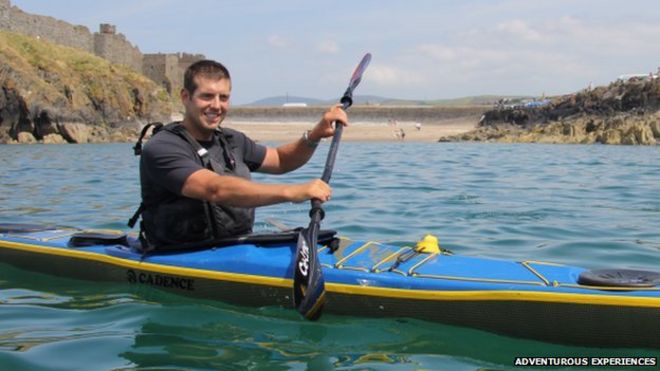 A kayaker from London has broken the record for circumnavigating the Isle of Man in a kayak.
George Shaw, 39, from London, completed the 72-mile (115km) route around the island's coast in 11 hours 43 minutes – 54 minutes inside the previous record.
The married father-of-one said: "To hold the fastest ever time is an amazing feeling – I am very pleased."
The previous record far a racing kayak set by Jon Willacy had stood since July 2010.
Mr Shaw, who has been living on the island for 13 years, took up sea kayaking about four years ago after a football injury left him unable to run.
He holds a number of Manx kayaking records including the quickest crossing between the Isle of Man and Ireland.
He took on the challenge this week after 18-year-old Kim Tastagh broke his record for going around the island in a standard touring sea kayak last month.
'Definitely go faster'
Mr Shaw said: "Losing a record gave me a sleepless night. I knew I wanted to post a quick time but I didn't expect to beat John's all-time record.
"I realised half way around that I was making good time and I just went for it after that."
His journey wasn't without incident after he was forced to navigate by compass after a thick sea fog descended near the Calf of Man.
He added: "I almost didn't bring it so that was very lucky. The conditions were tricky at times with the fog and strong head winds near Peel – I can definitely go faster."
He is now targeting the record for kayaking from the Isle of Man to Anglesey.
Kayaker Breaks Isle of Man Circumnavigation Record